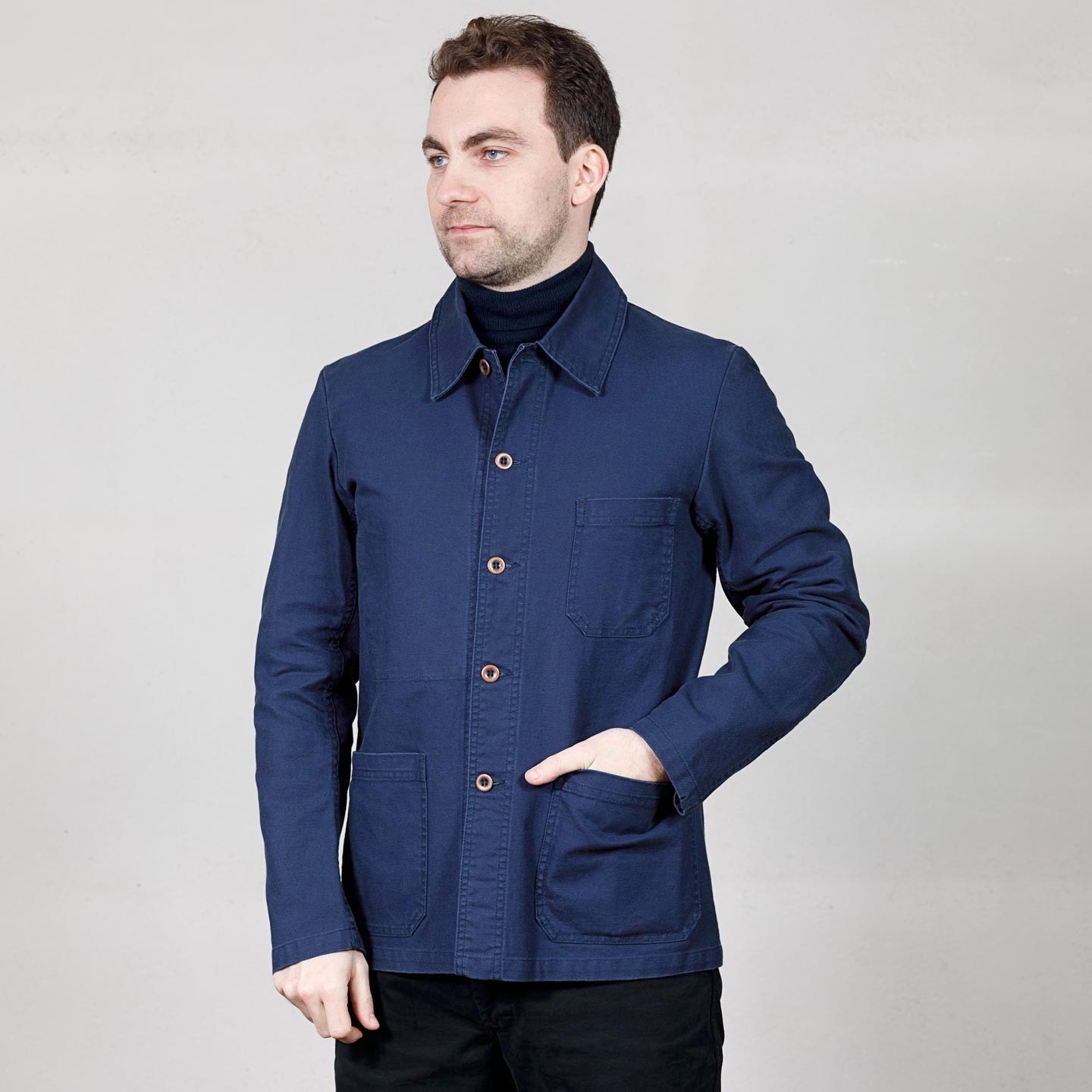  
Workwear Jacket in Organic Twill fabric 1G/5C
Iconic WW Jacket,
5-cm shorter (torso length) than style #4,
in iconic 100% organic cotton dungaree twill,
5 copper buttons, 3 pockets + 1 pocket inside.
(The dark navy, venice & dark khaki jackets bear "old rifle" buttons).
ACHTUNG ! VETRA SIZING FOR GERMANY

VETRA FR

42

44

46

48

50

VETRA DE

48

50

52

54

56
Vétra manufactures in its own French factory since 1927 all its garments, thus benefiting of an unique savoir-faire.
This (organic) twill chore jacket stems from the genuine Bleu de Travail made by Vétra since the beginning for the French workers. This style is 5cm shorter than original style #4 for a modern touch.
The twill ended up with prevailing on moleskin to become an iconic fabric of the French Workwear, meanwhile the anglo-saxons preferring the drills. This fabric is made of two-ply warp yarns (two yarns twisted together), ensuring better resistance.
The colours are also authentic : black, easy to produce & clean-up, and Bugatti blue, were the main colours up to the 50s, then hydrone and navy blues replaced them ; in parallel the blueish grey / postman blue was dedicated to the ... postmen. Nowadays, Vétra has created an exclusive wide range of colours, 100% dyed in France : bottle, pineapple, quince, waid...
Wash and iron inside out
Do not bleach

Do not tumble dry

Mild detergent only
Standard & express shipping
Vétra Workshops strives to ship products as quickly as possible. The standard delivery times are indicated when you choose the carrier. If you wish a particular date of delivery, or faster, you can request us through the contact-page.
Returns
Return requests must be made through the contact page or directly from the customer account. In case of exchange please specify size and color on the return form. Returns are accepted within 14 days from the date of delivery.
Delivery zone
Germany
Austria
Belgium
Denmark
Spain
Finland
France
Hungary
Irland
Italy
Luxembourg
Norway
Netherland
Portugal
Czech Republic
United Kingdom (Contact-us)
Sardegna
Sicily
Slovakia
Sweden
Switzerland (contact-us)
Australia
Canada
South-Korea
United-States
Hong-Kong
Japan
Singapore