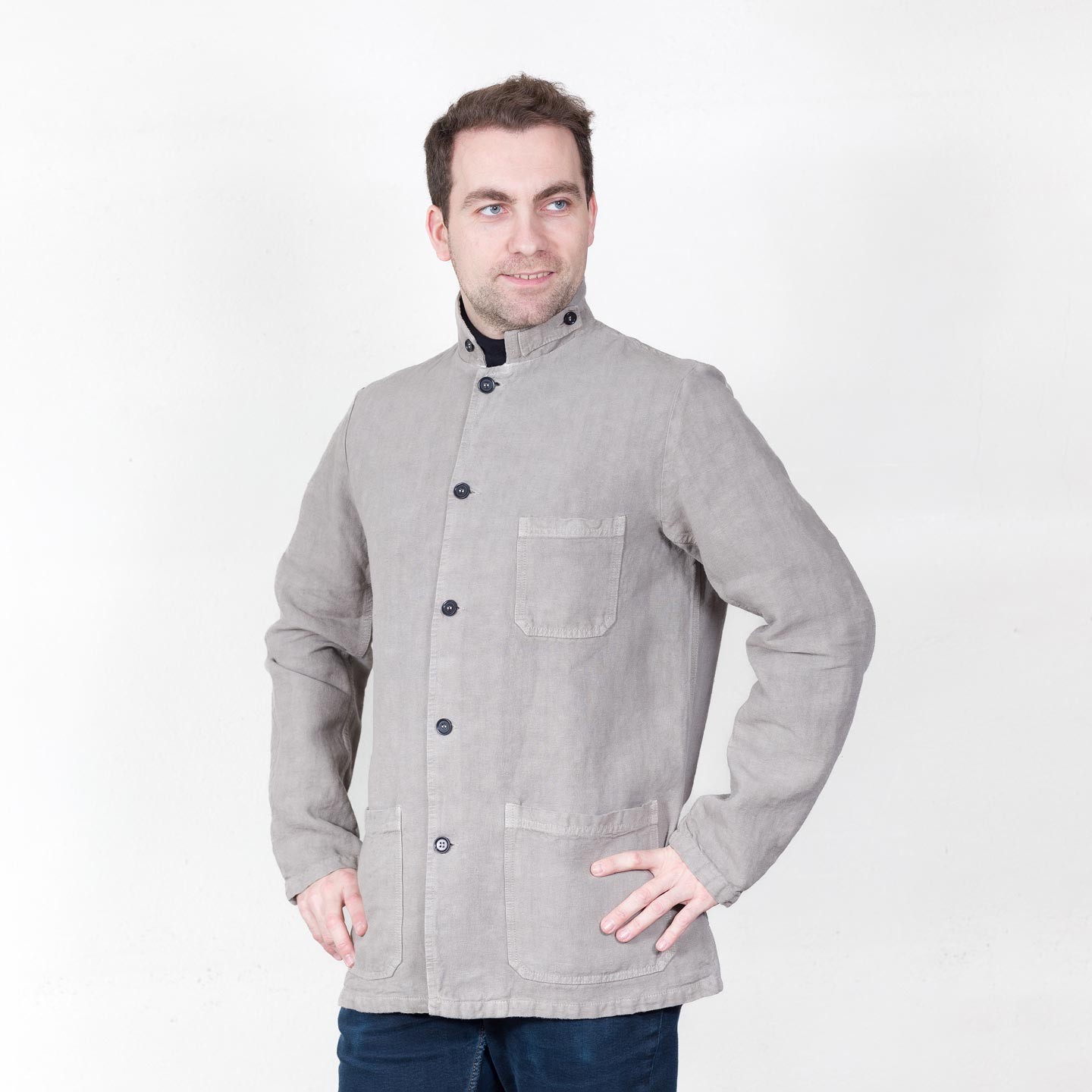  
Veste en lin à col officier et patte - 2L/22
Jacket in 100% linen overdyed heavy fabric,
with its officer collar and tab,
5 buttons, 3 pockets + 1 pocket inside.
Vétra manufactures in its own French factory since 1927 all its garments, thus benefiting of an unique savoir-faire.
The jacket has the collar that feature officiers' jackets in the French Army, with a tab. 
Formerly, the first fabrics was in linen, because the crops were adapted to Europe climate ; cotton has to be imported. In France linen was harvested mainly in Normandy. Then in the XWIII th century cheap cotton fabrics appeared in Europe, and was first mixed with linen. 
In 1927 Vétra supplied workers with mix of cotton & linen (bisonne) canvas and with 100% heavy linen fabrics jackets. At that time many mills were specialized only in blue and black (given the strong demand on these dungaree colours), then in the 20's broadened their colour range to brown (catechu). Some supplied Vétra with ecru (natural fabrics), or bleached the fabrics to offer white colour. 
100% linen
Wash and iron inside out
Do not bleach

Do not tumble dry

Mild detergent only
Standard & express shipping
Vétra Workshops strives to ship products as quickly as possible. The standard delivery times are indicated when you choose the carrier. If you wish a particular date of delivery, or faster, you can request us through the contact-page.
Returns
Return requests must be made through the contact page or directly from the customer account. In case of exchange please specify size and color on the return form. Returns are accepted within 14 days from the date of delivery.
Delivery zone
Germany
Austria
Belgium
Denmark
Spain
Finland
France
Hungary
Irland
Italy
Luxembourg
Norway
Netherland
Portugal
Czech Republic
United Kingdom (Contact-us)
Sardegna
Sicily
Slovakia
Sweden
Switzerland (contact-us)
Australia
Canada
South-Korea
United-States
Hong-Kong
Japan
Singapore